Dear Church Family,
On behalf of the Leadership here at Morning Star, thank you for your beyond generous year-end giving. December giving will always be vital to the health and sustainability of our church, but this year seemed extra critical as we entered December $130,000 behind projected giving. We asked you to pray and consider a year-end gift to help make up some of our shortfall—and God answered our prayers!
DECEMBER GIVING REPORT / MINISTRY FUND 
Budgeted: $225,000.00
Actual: $295,184.19
Difference: +$70,184.19 (+31.19%)
2021 BUDGET REPORT / MINISTRY FUND
Budgeted: $1,930,000.00
Actual: $1,874,369.14
Difference: -$60,630.86 (-3.13%)
Comments: WOW!!! God is good! He made up nearly $70,000 and four percentage points of difference in one month. The best part about this is that it was a team effort; not one LARGE bailout gift, but a large collection of people doing their part to help steward what God has given us.
2021 EXPENSE REPORT
2021 Revenue:  $1,895,422.19
2021 Expenses: $1,812,832.05
Difference: +$82,590.14
Comments: It is wonderful to finish the year in the black, which felt like a long shot for most of the year. A word of caution: We cut expenses this year, primarily in our grounds and deferred maintenance line items, and we were fortunate to not have any major facility repairs this year. Those bills will one day come and we need to have funds available. Also, we can't bank on our expenses being this low in the future.
2022 BUDGET
The Elders have approved our 2022 budget that was built by our Financial Advisory Team made up of myself (Pastor John), Candy Escalante (Financial Director), Bill Schutz (Elder), and Josh Gordon (Elder). For those interested, you can click HERE to get a budget overview. We are projecting a $1.87 million dollar budget, which is 3% cut from what we budgeted in 2021. We are overjoyed that we were able to provide a 2% COLA (Cost of Living Adjustment) to our entire staff to help keep up with the escalating costs of inflation. Financially taking care of our staff is a top priority with the elders and myself as our staff continually and sacrificially lead and support so many important ministries.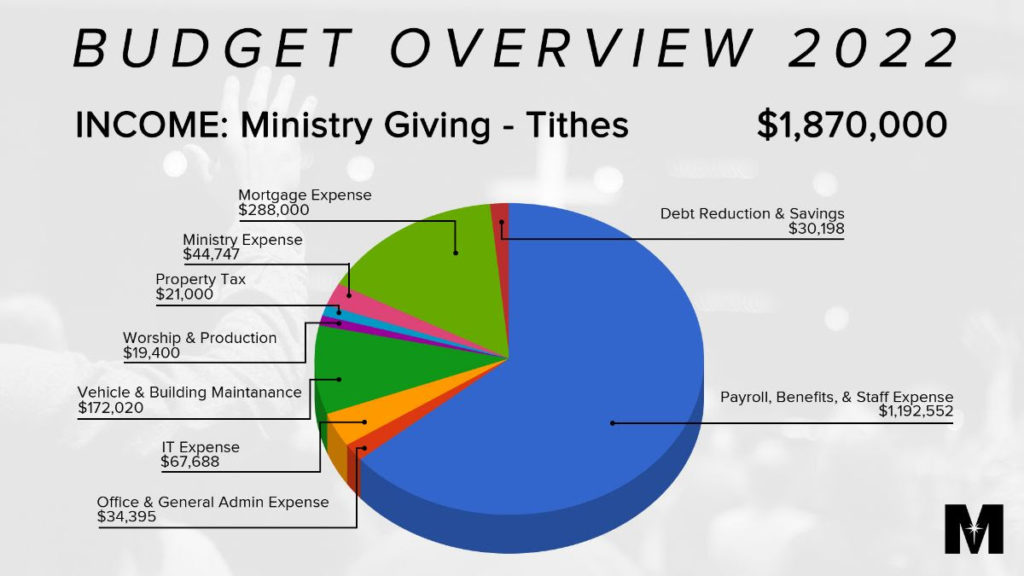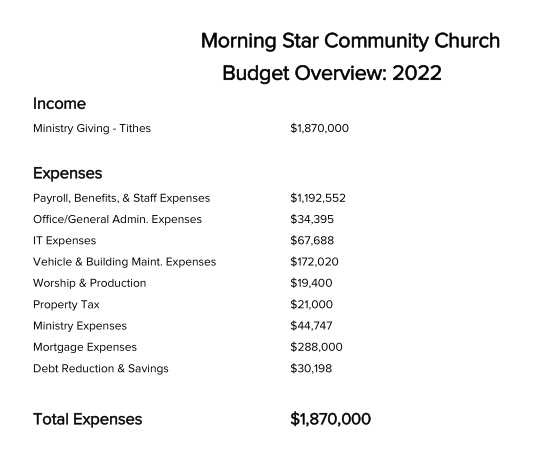 GIVING. If you would like to partner financially with Morning Star Community Church in disciple-making work and/or set up automatic giving, you can do so by clicking HERE.    
THANK YOU for your faithful prayers and generous giving. Let's keep on leading people to pursue a Jesus-first life!
In all things, Jesus first! 
John